GtoI is a global supplier for Industrial Machinery Equipment and Parts.

We know that it is important to comply with the rapidly changing global market and to listen carefully to the customer's needs and to grow together.

We are ready to meet our customer's needs now. Please contact us.


"It would be our pleasure if we were the gateway for you to become an International Corporation."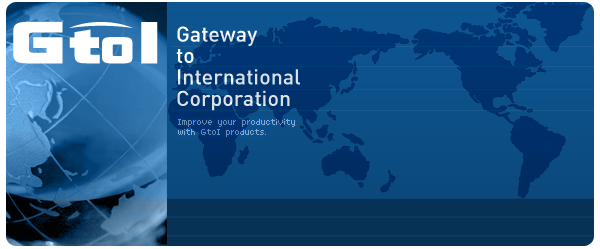 GtoI Philosophy

A whenever and wherever needed corporation.
GtoI Vision

To be a leading global corporation in speedily supplying the industrial products with good quality and price.
GtoI Motto

Growing together with our customers in trust, belief and sincerity.
GtoI Profile

Company name : GtoI Corporation
Foundation :2003
Business Lines : Sales of Industrial machinery equipment and parts
Production Lines : Chiller and Temperature Controller, Pneumatic and Hydraulic parts, Cable Drag Chain, Air and magnetic Brake & Clutch, Industrial Shock Absorber, Stopper Cylinder, Teflon tube, Linear System, Pressure Gauge and Switch, etc
Headquarters :#202 Joongang B/D, 462-3, Sangdo-Dong, Dongjak-Gu, Seoul, Korea
TEL: 82-2-812-7973~4
FAX: 82-2-6306-4432
GtoI History

2008. 03. 20 : Renewal the website "gtoic.com" , Expanded business to many countries
2006. 12. 28 : Open the website "gtoic.com"
2003. 06. 02 : Founded