Shock Absorber
Shock Absorber

---

KHA series
KHA Series, as a middle size, heavy size and adjustable type, can be controlled the velocity of a shock by adjusting the adjustment dial (to the left and right, each 180˚ ).
The way of setting adjustment dial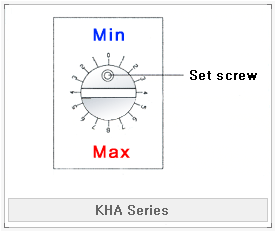 ※ Adjustment Dial is set at zero°( 0°) when deliver from a warehouse. Please, fix screw firmly with a wrench after adjusting damping power.

[unit : mm]
Model

Stroke

(mm)

S

Max
energy/Cycle

(Nm)

ET

Max

energy/Hour

(Nm)

ETC

Effective

weight(kg)
We

Return coil spring

Weight
(kg)

Standard type

Extension

(N)

Compression

(N)

KHA 42 - 25

25

250

125,000

36-3,600

55

85

1.25

- 50

50

500

166,000

45-6,150

40

85

1.4

- 75

75

750

200,000

54-9,500

40

90

1.6

KHA 64 - 50

50

1,300

270,000

82-12,600

75

160

3.7

-100

100

2,600

360,000

115-17,000

75

165

4.5

-150

150

3,900

420,000

140-22,000

90

280

5.3

KHA 85 - 50

50

2,300

370,000

200-37,000

110

215

6.4

- 90

90

4,000

650,000

230-40,000

110

215

7.6

-125

125

5,700

930,000

300-43,000

90

215

8.6

-165

165

7,300

1,210,000

360-45,000

130

350

9.8

KHA 115- 50

50

3,700

1,501,000

370-44,000

180

280

16

-100

100

7,400

1,805,000

370-57,000

160

280

19

-150

150

11,100

2,100,000

370-89,000

150

290

21

-200

200

14,800

2,405,000

390-118,000

130

290

31

-250

250

18,500

2,710,000

440-145,000

120

300

34

[unit : mm]
Model

Thread

Stroke

A

B

C

D

E

F

G

H

I

J

KHA 42 - 25

M42×1.5

25

143

95

27

28

17

14

40

38

54

50

- 50

50

193

120

40

40

- 75

75

243

145

53

52

KHA 64 - 50

M64×2.0

50

230

140

50

50

17

20

62

58

74

70

-100

100

330

190

75

75

-150

150

434

240

100

100

KHA 85 - 50

M85×2.0

50

242

140

48

42

20

25

80

72

94

90

- 90

90

322

180

70

60

-125

125

393

216

84

82

-165

165

473

256

100

106

KHA 115 - 50

M115×2.0

50

316

200

75

75

22

35

104

98

124

120

-100

100

416

250

100

100

-150

150

516

300

125

125

-200

200

616

350

150

150

-250

250

716

400

170

180