Shock Absorber
Shock Absorber

---

KMA Series
KMA Series, as a small size and adjustable type, can be controlled the velocity of a shock by adjusting the adjustment dial (to the left and right, each 180˚ ).
If a bumper head type is used, it prevents the bottoming phenomenon that may be caused at the end of a cycle. Therefore, stop collar isn't required.
The way of setting adjustment dial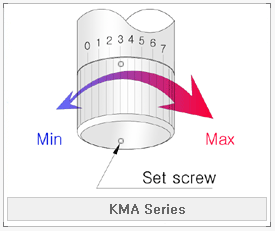 ※ Adjustment Dial is set at zero°( 0°) when deliver from a warehouse. Please, fix screw firmly with a wrench after adjusting damping power.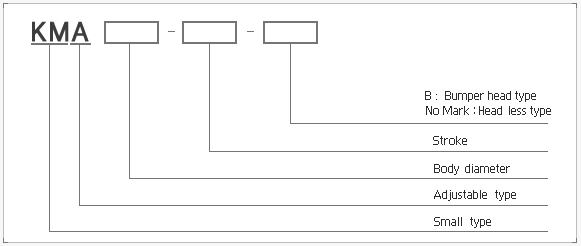 [unit : mm]
Model

Stroke

(mm)

S

Max

energy/Cycle

(Nm)

ET

Max

energy/Hour

(Nm)

ETC

Effective weight

(kg)

We

Return coil spring

Weight(g)

Extension

(N)

Compression

(N)

KMA 12-14

14

5

15,000

1.1-50

3.5

10

42

KMA 14-12

12

10

25,450

1.2-56

3.8

10.8

70.5

KMA 16-12

12

18

34,500

2.3~1.44

5

10

94

KMA 20-16

16

35

62,100

4.3-280

14

27

178.5

KMA 25-25

25

78

74,500

13-1,273

16.5

31.6

347.5

KMA 27-25

354.5

KMA 36-25

25

128

93,200

20-1,800

42

60

843

-50

50

256

113,700

42-2,700

24

60

960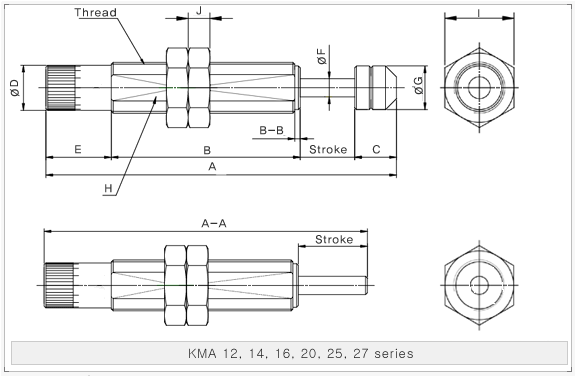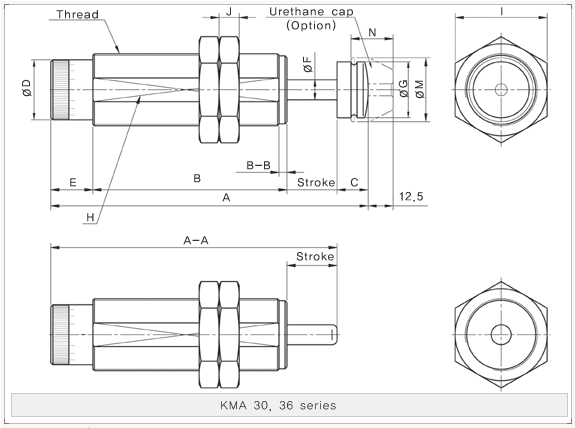 [unit : mm]
Model

Thread

Stroke

A

A -A

B

B-B

C

D

E

F

G

H

Lock nut

Stop collar

Urethane

cap

I

J

K

L

M

N

KMA 12-14

M12×1.0

14

89.5

82

56.5

-

7.5

10.8

11.5

4

10.5

-

14

5

13.2

20

-

-

KMA 14-12

M14×1.5

12

96

84.5

55.5

-

11.5

12.2

17

4

12

12.5

19

6

18

27

-

-

KMA 16-12

M16×1.5

12

94

88

55

-

11

14

16

5

14

14.4

19

6

20

27

-

-

KMA 20-16

M20×1.5

16

116.5

101

66

-

15.5

18

19

6

18

18.5

25

8

24

36

-

-

KMA 25-25

M25×1.5

25

142.5

127

82

-

15.5

23

20

8

22

23

32

10

30

42

-

-

KMA 27-25

M27×3.0

25

KMA 36-25

M36×1.5

25

158.5

143

97

4

15.5

30

21

10

28

34

46

10

45

62

32

21

-50

50

217.5

202

131

4