Shock Absorber
Shock Absorber

---

KMS series
KMS Series are small and self-adjusting type.
They keep absorbing mechanical shock slowly & smoothly due to their special designed multi orifice.

If a bumper head type is used, it prevents the bottoming phenomenon that may be caused at the end of a cycle. Therefore, stop collar isn't required.
Self-Adjusting damping force
shows the feature of KOBA' s Multiple orifice that keeps stopping shock energy slowly & smoothly providing the constant power of resistance.
shows that it decreases gradually with providing big power of resistance at the first stage and occurs when load is light and velocity is very fast.
shows that it fails to slow down the power of resistance at the early stage and occurs when a power of resistance rises at the end stage, speed is getting slower and weight is big.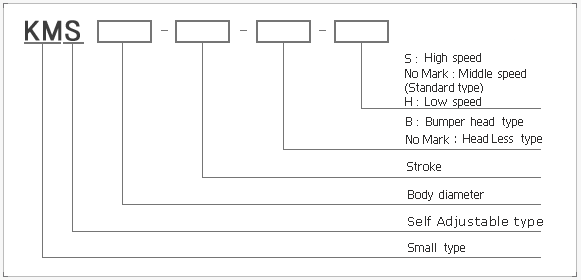 [unit : mm]
Model
Stroke (mm) S
Max energy/ Cycle (Nm) E

T

Max energy/ Hour (Nm) E

TC

Effective weight (kg)
We
Impact velocity (m/sec)
V
Return spring force (N)
Weight (g)
S1
M2
H3
S1
M2
H3
Extension
Compression
KMS 08-06
6
3
6,000
0.6 below
1.3 below
6 below
3.2 below
2.2 below
1.1 below
3
6
15.5
KMS 10-08
8
6
12,600
0.8 below
2.5 below
12 below
4.0 below
2.2 below
1.2 below
2.5
5
23.5
KMS 12-10
10
8
16,000
2
below
4.5 below
18 below
3 below
2 below
1
below
3.2
10
35.5
KMS 14-15
15
10
35,000
2.2 below
6 below
30 below
3 below
2 below
0.8 below
3.8
11
64
KMS 20-20
20
32
57000
8.5 below
25 below
79 below
2.8
below
1.6 below
0.9 below
8.2
18.2
162
-30
30
52
31,100
10 below
23 below
40 below
3.2 below
2.1 below
1.6 below
7.5
14.5
245
-50
50
82
37,800
11 below
25 below
46 below
3.9 below
2.6 below
1.9 below
8
18
289
KMS 25-25
25
80
73,000
22 below
40 below
160 below
2.7 below
2 below
1 below
20
32
280
-40
40
110
94,000
32 below
55 below
453 below
2.6 below
2 below
1.2 below
12
42
320.5
-50
50
120
41,000
35 below
60
below
142 below
2.6 below
2 below
1.3 below
21
43
437.5
-80
80
160
54,200
36 below
55 below
125 below
3 below
2.4 below
1.6 below
21
43
544.5
KMS 36-25
25
110
125,000
33 below
86 below
272 below
2.6 below
1.6 below
0.9 below
28
64
750
-50
50
220
162,000
49 below
91 below
364 below
3 below
2.2 below
1.1 below
28
84
920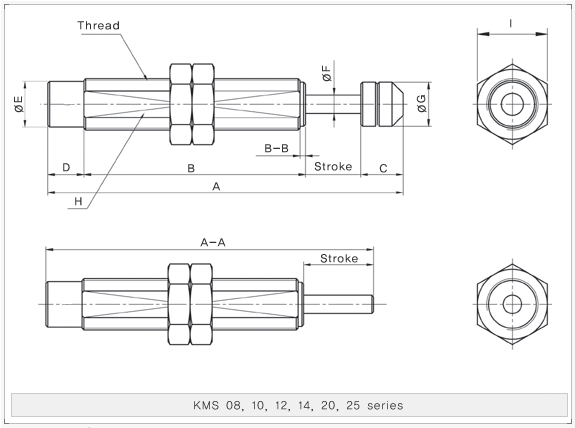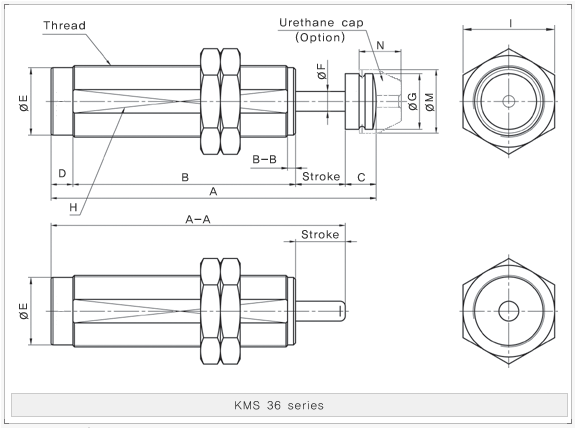 [unit : mm]
Model
Thread
Stroke
A
A-A
B
B-B
C
D
E
F
G
H
Lock nut
Urethane cap
I
J
M
N
KMS08-06
M8×1.0
6
54
47
35.7
1
7
5.3
6.8
3
6.8
-
12
4
-
-
KMS10-08
M10×1.0
8
63
56
43
1
7
5
8.8
3
8.6
-
13
4
-
-
KMS12-10
M12×1.0
10
68.5
61.5
45
-
7.5
6
10.8
4
10.6
-
14
5
-
-
KMS14-15F
M14×1.0
15
91
79.5
53.5
-
11.5
11
12.2
4
12
12.5
19
6
-
-
KMS14-15
M14×1.5
-
-
KMS20-20
M20×1.5
20
120.5
105
74
-
15.5
11
18
6
18
18.5
25
8
-
-
-30
M20×1.5
30
145.5
130
89
-
15.5
11
18
6
18
18.5
25
8
-
-
-50
50
229.5
214
90
-
15.5
74
-
-
KMS25-25F
M25×1.5
25
129.5
114
77
-
15.5
12
22.6
8
22
23
32
10
-
-
KMS25-25
M25×2.0
-
-
-40
M25×2.0
40
165.5
150
98
-
15.5
12
22.6
8
22
23
32
10
-
-
-50
M25×2.0
50
235.5
220
100
-
15.5
70
22.6
8
22
23
32
10
-
-
-80
80
329.5
314
137
-
15.5
97
-
-
KMS36-25
M36×1.5
25
163.5
148
112
4
15.5
11
34
10
28
34
46
10
-
-
-50
50
213.5
198
137
4
32
21