Shock Absorber
Hydro Check

---

KHC 24 series
KHC 24Series, a controller of uniform motion, controls precise speed and position.
As well, they can even control minutely a speed of all the moving devices.
When using the snap ring at the top of the body, operators can prevent the KHC check from being pushed out of a machine.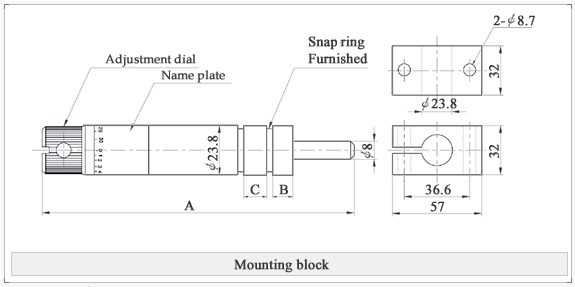 [unit : mm]
Model

Stroke

(mm)
S

Dimensions

Max

load angle

from axis(°)

Speed adjustment range

A

B

C

Load limits

Feed rate limits

KHC 2415

15

157

22

26

1.2

100~2500N

0.2~30mm/sec

KHC 2430

30

202

20

1

KHC 2460

60

312

16

0.5

KHC 2490

90

382

16

0.3

KHC 24120

120

472

16

0.2