Booster cylinder
AIR - HYD - CYLINDER

---

Booster cylinder
The special type as cylinder can exert output force by oil press.
It is a kind of cylinder depend on air press, at end of stroke cause
Bigger output force as clinching, band, assemble and compacting form craft.
The power stroke have no relation with move distance, it is start at the moment of oil load begin, the Max. power stroke is 8 mm.
How to order

Specifications
Specification
Item
AB-3
AB-5
AB-10
AB-15
AB-20
AB-30
AB-40
Output force
3 Ton
5Ton
10Ton
15Ton
20Ton
30Ton
40Ton
Rate of adding press
1:20
1:21
1:25
1:25
1:27
1:31
1:32
Working fluid
Compress air
Range if using press
3 ~ 5kgf/㎠
Proof. Press
15kgf/㎠
Bore
∮63
∮80
∮100
∮125
∮140
∮160
∮180
※ The output force is base on 5kgf/㎠(commonly using press).
※ The product is the compressure booster cylinder.
※ The mounting type have SD/FA/FB/LB only.
※ Direct compressed type cam ordering also(inquire us, please).
※ Non - standard type can order also(inquire us, please).
AB type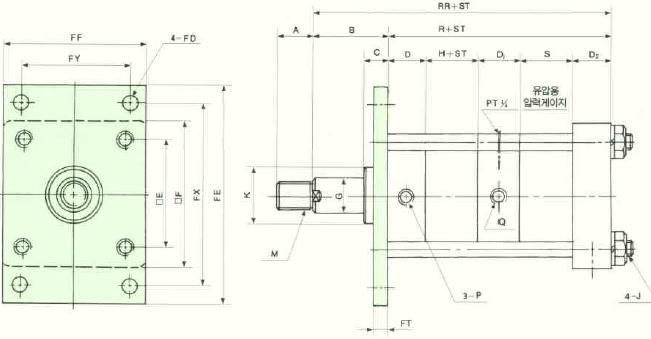 | | A | B | G | M | E | F | J | C | K | P | Q | D | D1 | D2 | FX | FY | FE | FF | FD | H | S | R | RR | FT |
| --- | --- | --- | --- | --- | --- | --- | --- | --- | --- | --- | --- | --- | --- | --- | --- | --- | --- | --- | --- | --- | --- | --- | --- | --- |
| 3Ton | 35 | 51 | ∮35 | M30x1.5P | 80 | 110 | M16x1.5P | 20 | ∮55 | PT3/8 | PT1/2 | 34 | 66 | 32 | 155 | 87 | 190 | 118 | ∮18 | 57 | 171 | 360 | 411 | 21 |
| 5Ton | 60 | 60 | ∮45 | M39x1.5P | 102 | 135 | M18x1.5P | 20 | ∮65 | PT1/2 | PT3/4 | 34 | 70 | 30 | 190 | 109 | 230 | 150 | ∮22 | 60 | 210 | 404 | 464 | 24 |
| 10Ton | 75 | 60 | ∮55 | M48x1.5P | 122 | 165 | M22x1.5P | 30 | ∮80 | PT1/2 | PT3/4 | 35 | 75 | 37 | 224 | 130 | 272 | 175 | ∮26 | 65 | 209 | 421 | 481 | 27 |
| 15Ton | 80 | 60 | ∮60 | M56x2P | 130 | 175 | M22x1.5P | 41 | ∮85 | PT1/2 | PT1 | 40 | 83 | 43 | 250 | 145 | 300 | 195 | ∮26 | 70 | 245 | 481 | 541 | 31 |
| 20Ton | 80 | 70 | ∮65 | M60x2P | 148 | 196 | M27x1.5P | 45 | ∮90 | PT3/4 | PT1 | 40 | 83 | 43 | 270 | 155 | 320 | 210 | ∮30 | 76 | 295 | 537 | 607 | 35 |
| 30Ton | 95 | 80 | ∮70 | M64x2P | 164 | 225 | M27x1.5P | 47 | ∮95 | PT3/4 | PT1 | 40 | 88 | 40 | 315 | 185 | 375 | 243 | ∮33 | 83 | 295 | 581 | 661 | 39 |
| 40Ton | 110 | 84 | ∮90 | M80x2P | 200 | 262 | M33x1.5P | 54 | ∮115 | PT3/4 | PT1 | 50 | 93 | 40 | 355 | 206 | 425 | 272 | ∮36 | 90 | 310 | 586 | 667 | 44 |