Magnetic Brake & Clutch
Torque Limiting Coupling

---

HTL Type, HTL-B Type
☞ Check Point
For protection from the impact in case of overload, driving gear is designed to be slippery.
Slipping friction is made to be constant using special metal.
The transmitted torque is measured bty various compression of springs.
This process is made when tightening or loosening lock ring in clock wise direction until getting the required value.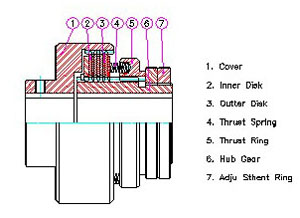 [HTL Type]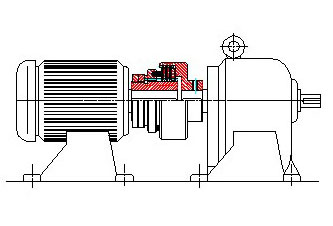 [HTL-B Type]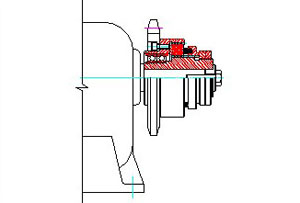 [HTL Type]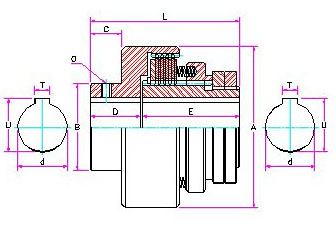 MODEL
Torques(kgf.m) Min ~ Max
DIMENSION
(mm)
A
B
C
D
E
L
O
T
U
dH7 (min)
dH7 (max)
HTL-120
3 ~ 25
105
50
20
30
63
95
M6
8
33.3
Φ15
Φ30
HTL-135
5 ~ 40
130
70
25
40
78
120
M8
12
43.3
Φ20
Φ40
HTL-160
7 ~ 60
150
100
30
50
97
150
M12
16
59.3
Φ30
Φ55
[HTL-B Type]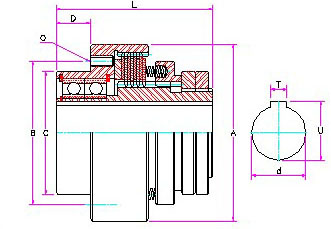 MODEL
Torques(kgf.m) Min ~ Max
DIMENSION
(mm)
A
B
C
D
L
O
T
U
dH7 (min)
dH7 (max)
HTL-B-120
3 ~ 25
105
85
70
20
94
M6
8
33.3
Φ15
Φ30
HTL-B-135
5 ~ 40
130
105
90
30
115
M8
12
43.3
Φ20
Φ40
HTL-B-160
7 ~ 60
150
120
100
35
135
M12
16
59.3
Φ30
Φ55